a bakery with a mission
A Pink Apron is a café bakery that offers decadent sweets and hand crafted beverages made from scratch using fresh ingredients. We offer vegan and gluten free options as well as traditional sweets so there is something for everyone. We love Columbus and are hoping to make an impact specifically in areas of our city that don't have access to nutritious food. Click below to try us out and support our mission!
the goods
Our menu includes a variety of cupcakes (vegan and GF options available). We offer seasonal cupcakes and other goodies not on our current menu that are worth checking out too (click right or left arrows).
Have a special request? Feel free to reach out and ask us about it, and we will do our best to accommodate you!
Ashley Bodine – Owner
About Us
A Pink Apron was born out of a dream to create change in the city of Columbus. We want to help blaze the trail of equal access to nutritious affordable food in every part of our city.
How can this be accomplished with baked goods? Our health conscious sweets (meant to inspire joy without the belly ache and with your long term health in mind) are really a means for us to generate profit that will be used for the greater good. Right now we donate a percentage of profits from every order to our favorite non-profit with this shared mission, Local Matters. Your support of us and our mission is truly felt!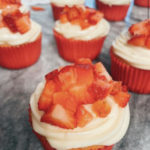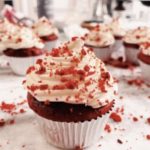 Location
A Pink Apron
7488 Gardenview Pl
Dublin, OH 43016
Contact
Need additional assistance? Please contact us:
ashley@apinkapron.com
614-915-6108
Hours
Our normal business hours are 9-5 every day, but we are available for catering, pick up, or delivery beyond these hours. Just give us a call or send us an email and we'll be sure to get back to you as soon as we can.